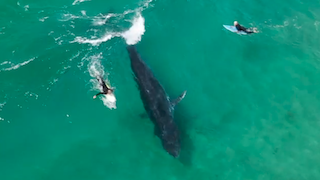 SURFING WHALE.
October 2020
Photographer Daniel Cook and his fiancée were on a road trip from Sydney and captured this amazing vision during their stay in Lennox Heads, just south of Byron.
In the breathtaking video a pair of minke whales, measuring roughly eight metres, can be seen crashing the waves of some surfers as they feasted on bait fish. The surfers are completely unbothered by their much larger companions, and come within metres of the ocean giants..
Photographer Daniel Cook said of the event "This by far has to be the most spectacular thing I've ever seen through the drone. I just throw the drone up every now and then take photos, a little bit of video. "This was very much unexpected, but very blessed to get the vision.".
TFC is pround to exclusively represent this video and all the other shots from the sequence captured on the day. Please enjoy.
Please get in touch with us at hello@thefootagecompany.tv for any licensing enquiries. We look forward to hearing from you.